For the last few years I have sought to combine the spiritual aspect of my Druid studies with the practical need of finding somewhere special to record my experiences of the journey. As such, and because I enjoy making things, I decided to try and make my own special book. I have no experience of bookbinding, and am usually not very good with my hands. However, I decided that none of this mattered, and tried my hand regardless. In this spirit I offer this seminar; so that those who, like me, had no idea where to start, can now try it out for themselves.
September Seminar: Making A Sacred Book
Introduction
Many people around the world have a love affair with the humble book. It is amazing that such a simple object can have such far-reaching effects. For those of a Pagan or Druidic path, books become, in many ways, the cornerstone of our learning. History, mythology and the rich experiences of our ancestors leap out at us; whether it is a non-fiction book, or consequently the imaginative constructs of a creative mind.
Those of us who are following the OBOD courses may find it particularly interesting to start a journal, in which we can record our experiences firsthand. Others may not choose to do so, as they do not find it useful. However, for me, I felt called to produce a journal of my own, that contained my handwritten soul song. In this way, I found myself purchasing a special notebook and hand painting the cover. This small book contains within it all my impressions of the course, my meditations and thoughts. But a part of me wanted something more, something bigger, and it was with this in mind that I began to set in motion plans to create my own sacred book, from simple materials. I knew I wanted something that looked rather special, as I was inspired by large grand Wiccan Books of Shadows that I had seen in photographs. This seminar will hopefully inspire you to create your own sacred book, and as such I will give you a simple rundown of the creative process involved in making mine. I am not a professional bookbinder, and am probably one of the least artistic people I know. The aim of this seminar is to show that anyone can take it upon themselves to do this, regardless of ability.
Why Make A Sacred Book?
In our consumer-driven lifestyle, it is so easy these days to just make a trip to your local stationery store and purchase a reasonably nice notebook. Inside it, you could place your journal entries, any creative writing you may do, and so on and so forth. However, many of us will know that in a nature-based spirituality, it is often inherently more satisfying to create something from our own hand. It was in this creative spirit that I began to research into how to make my own. Mine is of a large A4 size (letter size for those in the US), covered with velvet and containing around 300 sheets of parchment paper. I knew I wanted it to be big and rather grand looking, so I invested a little money into getting the materials. However if money is an issue, you can create something totally individual on a budget.
Making Your Book - A Sample Process
Here follows the process I used to create my book, from beginning to end. Unfortunately I do not have step-by-step photographs, but I will try to explain as best I can. The important thing is not to be competitive. If you are basing your book on a design you have seen elsewhere, do not be downhearted if it does not completely match. This is your book, and as such will be completely unique.
1) Decide what kind of book you want to make - do you want large or small? Hardcover or soft cover? Plain paper or lined? How many pages? Begin to write down your ideas and sketches if you would like a personal design. At this stage you will begin to have some idea of the materials you will need. I decided that I wanted an A4 size, hardcover book covered with velvet and also that I wanted plain parchment paper.
2) You can now look into obtaining the materials you will need to create your book. I discovered that I needed velvet, a ring binder, parchment paper, sewing thread, industrial strength glue, string and hard cardboard. Try at this stage to think of everything you will need, so that you don't find yourself without something important at a later stage.
3) This is the exciting part! You can now begin to assemble your book. Allow yourself a good few days for this part, as the time you put into it will show in the end result. If needed, go online and find resources such as a book binding diagram (although I will provide a link to a good one later in the seminar) and anything else you think you will need. If you decide to work with leather or wood, then you will need additional tools that I have not mentioned here. Following is the method I used to make my book, just for reference.
Take the ring binder and detach the metal rings from the body. This can be easier said than done but eventually it should come out cleanly with a little bit of force. The ring binder itself will become the hard cover of your book.
Lay your fabric out on a flat surface and place the ring binder, front down, on it. Cut a box shape around it, allowing a few inches around the outline of the binder for folding and sticking the fabric down. It can be helpful to cut small slats in the corners to assist with clean folding. However, do not yet stick the fabric to the cover.
Assemble together the pages for your book and put them in a neat pile. If you wish, at this stage you can decorate individual pages, but remember to leave a wide margin on the left of the page, to avoid ruining your work at a later date. I decorated the first page with The Druid's Prayer, but you may like to draw or paint something, or add a poem or blessing of your own design. Take a piece of cardboard and place one at the bottom of the pile of pages, and one at the top. You will sew these together with the pages, to act as a secondary cover and to keep the pages clean inside the book. You are now ready to assemble the pages.
If you have bookbinding experience, you can use whatever method you are most comfortable with. I find Japanese stab binding techniques the most useful. You will need to stab equally-spaced holes down the side of the left margin, in order to sew the pages together. If you have a lot of sheets, as I did, this can be difficult. In this case I found it easier to drill the holes through the paper, keeping the pages together as a solid block while I did so. For this I just used a normal electric drill with a small drill bit, but you could also use a hole punch, or if you have more pages, a Dremel. Once this is done, you can sew the pages together in traditional Japanese style. For an indepth guide to this, the webpage at this address:
http://www.sff.net/people/brook.west/bind/bindit.html
provides a good step by step guide with pictures.
Now you can set this aside and turn your attention back to the cover. The tricky part is attaching your newly bound pages to this hard cover. You could use industrial strength glue, but I found this problematic. Instead, I used a combination of glue and string to secure the pages to the cover. Apply a layer of glue to both the fold in the binder and the spine of your newly bound book. Apply pressure to both, ensuring that they adhere to each other. You may find you need to place them in a position where they will stick without you holding them - this can be tricky. Once the glue has dried, cut a length of string four times the length of your book. Once the inner book is glued to the cover, you open the book in three places and run the string down the middle of the open book, then you circle it all the way around the outer cover (the ring binder) to form a loop which holds the two together. You then open the pages somewhere else, and do the same again, and then again. Once you have done this, tie the string off or glue it down. You can now attach the fabric to the outside of the cover. This has the dual benefit of making the cover look nice and also hiding the string.
My finished result looked like this: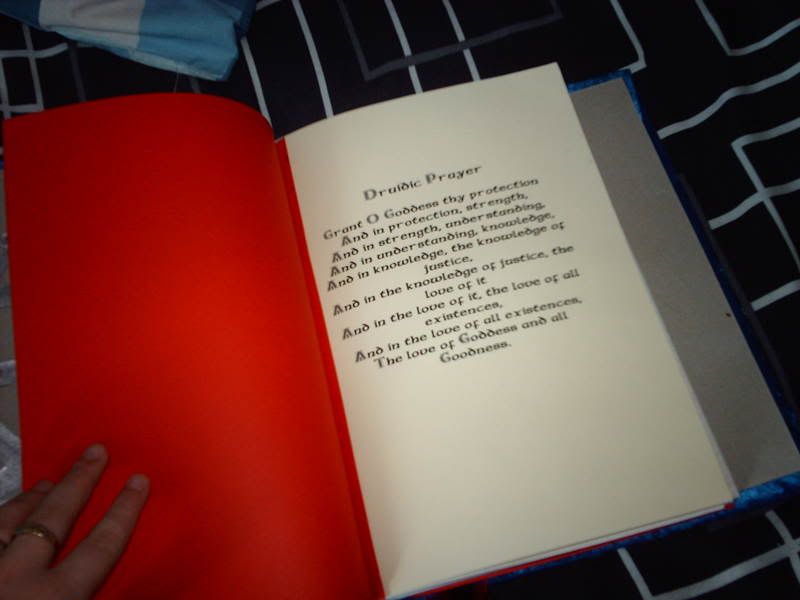 Congratulations! You're just hand-made a book!
Using Your Sacred Book
Now that you have made your book, what do you use it for? This is where your creative imagination really comes in. As I already had a journal for my Bardic studies, I decided to use mine to record tree lore, poetry, artwork and rituals. As time goes on, I am finding more things to put into it. For those of you who have children of a similar path, it would make a wonderful gift to pass down. You could even make further volumes once the initial book is full. It is your book and therefore you can put anything you want into it. I hope this seminar has been a starting point and perhaps inspired you to try it yourself.
© Eala Serenarian, 2008